So, first of all, it's been a while since I've blogged. I make no apologies. I've been loving and living life. This blog has never been my source of income. For the curious, you should know that I'm still making a living working from home as an internet marketer focused on lead generation for lending companies.
I've taken advantage of being able to work from anywhere, and have spent lots of time with my family on the road in our little old RV. But enough of that….
I recently went to Burning Man 2012 in Black Rock City, NV and am friends with several other people who went. One of these people was there and when we visited her at her camp she proceeded to complain about something every time we saw her. Just now on Facebook she complained about having had 3 flat tires within 2 weeks. She punctuated this complaint with "FML".
I didn't know what FML stood for. I rightly guessed that it means Fuck My Life. I'm not offended by the language, but the attitude is untenable. I would never use such an anti-affirmation. I habitually remove from my news feed people spouting such attitudes. I prefer for my life to be permeated by positivity.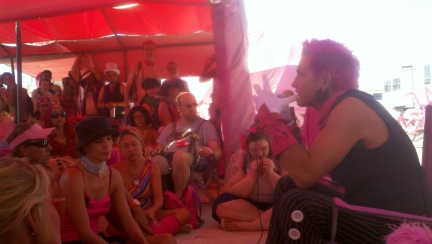 This made me think of John Halcyon Styn who I met at Burning Man. He does a thing called Hug Nation that my wife wanted to attend, and I enjoyed. He's a little freaky by muggle standards but brings a wonderful message of love and joy. One of his favorite stories to share is "Crap or Cone". He states that  "At all times we each have 1 foot in dog shit and in our hand we're holding an ice cream cone. Some people will put down the ice cream cone so they can smell their foot. Maybe we should ignore the dog shit and enjoy the ice cream."
He's got a point. Every day, there are both good and bad things we can choose to focus on. Life is beautiful, bountiful, and magnificent. Ignore the dog shit.